A few days ago, while I was blog surfing, I came across Joanna Goddard's post
Carrot Cake Whoopie Pies
on her wonderful blog :
A CUP OF JO
. The recipe she referenced is from another blog called
Abbey Goes Design Scouting
, another great read! Abbey's recipe was adapted from a recipe originally found in
Gourmet
(sadly, the magazine is no longer in print) and her pies look fantastic! Here are Abbey's pies:
Don't those look delicious?
Being inspired by the photo above, which Joanna also posted to her blog, I made a few whoopie pies of my own! Mine were made using this recipe:
Carrot Cake Cookies
,
which are made with carrot cake mix. My sister-in-law had a box of the mix lying around, we did not really have enough carrots to make the ones from scratch and we both had a craving for the whoopie pies after seeing that photo on Joanna's blog! So, here are my little pies:
My attempt at being decorative...
All that yummy filling!
A closer look at my culinary skills!
I love photographing baked goods! As I was making these I was watching/listening to the movie
The Family Stone
. Sarah Jessica Parker did an awesome job being uptight and obnoxious but becomes endearing in the end. It is a sad movie which teaches a valuable lesson, it teaches love and acceptance no matter what a person is like. I think that in order to really appreciate it you have to view it at least twice, it is a real tear-jerker. Here is one of my favorite scenes from the movie: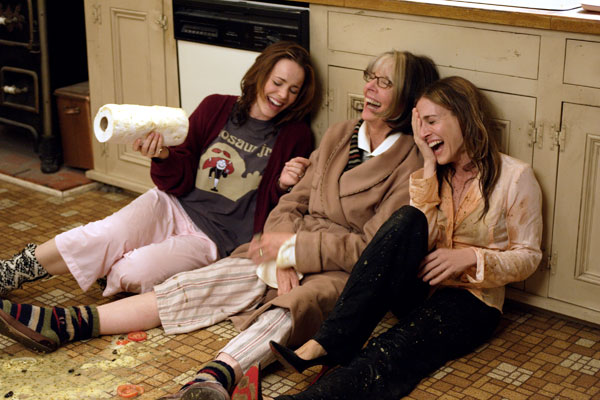 Rachel McAdams, Diane Keaton and Sarah Jessica Parker
To top everything off, I received a box of Valentine chocolates from my sister-in-law, a nice surprise! So, don't waste another minute, make those whoopie pies and rent the movie! You'll love them both, I guarantee it! Happy Valentine's Day and have a wonderful week!
Cheers ♥